I call this page "The Oeno File."
This line of work arose from an opportunity to have a show of my glasses in a high-end wine bar. The making of wine is what occurs when you join the entrepreneurial spirit with agriculture, aesthetics and alchemy. Wine is often used to celebrate and commemorate some of the most joyous and important stepping stones in life.
These works can be collected, commissioned, or given as gifts in celebration of a wedding, an anniversary, the buying of a new home, the launch of a new venture, the closing of a deal.
COMMISSIONS: Wine paintings can be commissioned as special pieces to celebrate and promote your own wine label or your favorite wine or wine-related occasion. Originals as seen here are acrylic on canvas. Please email me for further information.
PRINTS: Giclees on canvas are available in very limited editions. We print them ourselves to achieve excellent color. We use the highest quality Epson inks on archival canvas. They are then coated with a UV varnish for protection.
Prints are available in three sizes: prices include one of our frame choices.
(Sizes do not include frame width.)
oenophile's special:
10"x 20" $245, 15" x 30" $345, 20" x 40" $495
Please email me for further information: Kit@KitNight.comKit@KitNight.com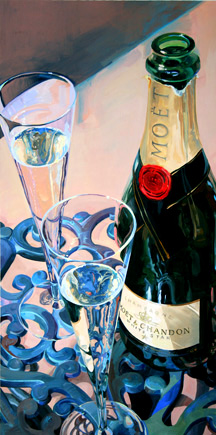 A Moet Chandon Occasion
20" w X 40" h
Original Sold